PHILOTIMO OLIVE OIL
GREEK SECRET is a B2B wholesale olive products merchandiser based in the UK, and Philotimo Olive Oil is its flagship product. The client required for an outcome that would emphasize on the product's purity and origins.
DESIGN APPROACH
The design is based on geometrical elements as to preserve purity. The site's dominant colors are purple and silver. Purple is the olive's color under bright light and silver is the foliage color when waving in the wind, under the sun.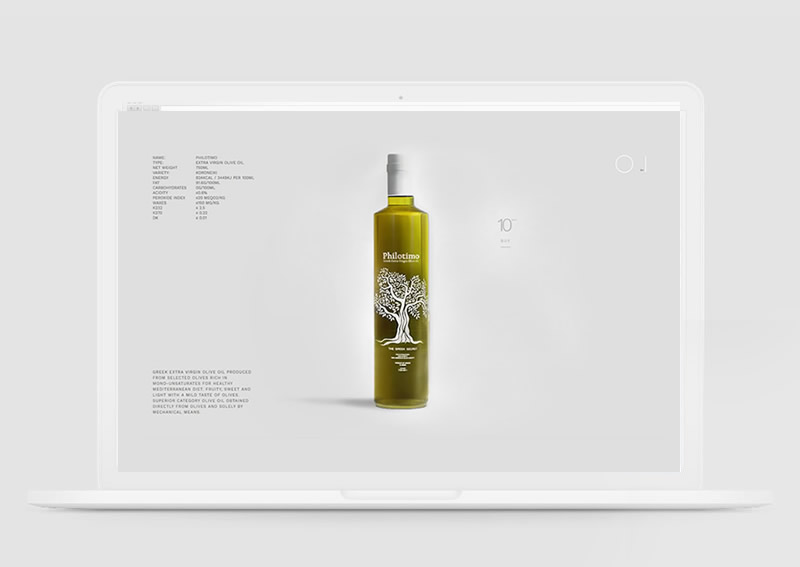 To bridge the gap between the current design approach and the stereotypical presentation of olive products, a footage loop of an olive grove was placed at the home page. The video feels and sounds like a "happy summer memory" and its role is to create a feeling of joy to the visitor.
TECHNOLOGY
The website is based mostly on CSS animations, jquery and some SVG. At the home page, video and audio had to be two seperate files. That's because the video should be short in duration for size reasons and audio long as to sound natural. The hardest part was making a seamless video loop of an olive tree waving in the wind.
WEBSITE AWARDS
"EBGE! AWARDS 2016" Merit
*EBGE!:Greek Design Awards
CREATOR'S NOTE
Remember to enable video and sound for the full experience.
visit website