LOGIMA Special Therapies
Logima is a multidisciplinary centre offering diagnostic assessment and treatment for children and support to families and carers. Building a website that would promote the Centre's business and at the same time treat with respect such a sensitive subject was a real challenge.
DESIGN APPROACH
The development of the website for the LOGIMA Special Therapies Centre was assigned to us along with 3 requirements.
a. Refrain from using any photographic material (since the core discipline of the centre are therapies for children patients )
b. Be as minimal as possible
c. Be as unique as possible
Minimalism was expressed through the use of 8 squares, each one representing a section of the website, and uniqueness by nesting archetypical representations inside the illustrations.
The loading icon, on the left, is actually the site map, depicting the 8 boxes and the red navigation line circling them.
The user navigates by clicking the boxes or following the red line when inside a category.
Every square, even the site's background, has a gif pattern with a subtle move. In essence, a subtle optical noise is present all over the place, still, unable to disrupt the optical tranquility.
TECHNOLOGY
The website is based mostly on CSS animations and jquery. A custom jquery/css framework had to be developed as to scale it up to this size while keeping code and complexity at the minimum level.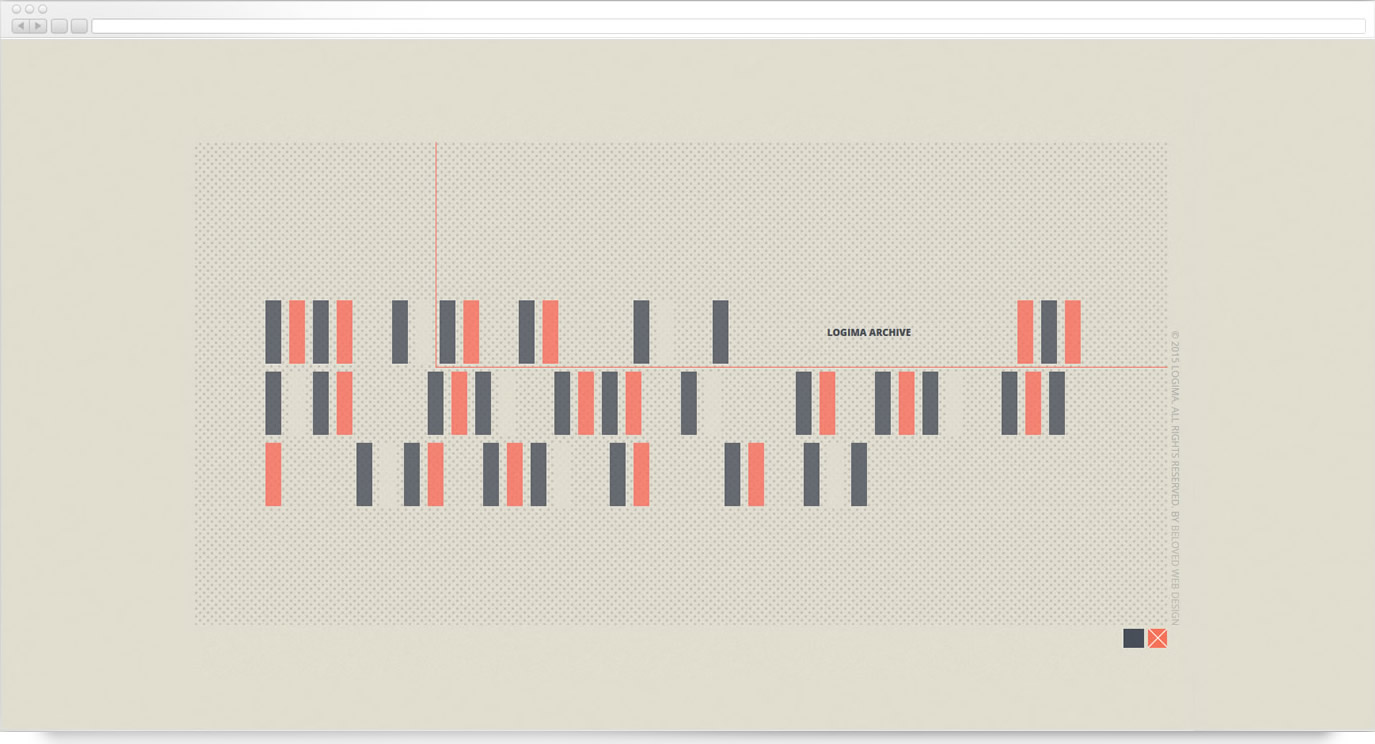 WEBSITE REVIEWS
EBGE! AWARDS 2016 : GREEK ILLUSTRATION & DESIGN AWARDS CATALOGUE, PROMOTION WEBSITES, p168
A brilliant website that instantly stood out for the original approach to a difficult and sensitive subject. Simple and modest with custom navigation, great attention to detail, stand-out semiotics and symbolism, elements that made it all the more different from other entries. The art direction was fantastic, the color scheme was original and the information was carefully structured, without overwhelming the visitor. Technically accomplished on every level, with flawlessly responsive web design and animation, using CSS3.
WEBSITE AWARDS
"EBGE! AWARDS 2016" 1st place

*EBGE!:Greek Design Awards
CREATOR'S NOTE
For this project, we actually wanted to create a website as if it was the first website ever built. We wanted to reject any influence, all web design trends, travel time back to August 6, 1991 and create something of primal nature. Something plain, relying on archetypes and with a retro touch. So, if we were to create the first website on planet earth, that would be LOGIMA.
WATCH walk-through ▶
visit website